"Your Source for Quality"
Ph: 02 6585 8090 - - - - mortonestate@yahoo.com.au
---
Poultry Page
We are breeders of purebred poultry, specialising in the Bantam Sussex (a medium size fowl for the backyard, economical to feed and good layers)
and Guinea Fowl, a beautiful coloured bird great for pest control, eating ticks, bugs etc even keeping snakes away.
Young birds and breeding stock may be available for sale occasionally throughout the year.
Please feel free to email us with your inquiries or orders.
We are pleased to have sold poultry / eggs to all states of Australia. Some recent comments from our happy clients:
P.R. - "In my 30 odd years with Sussex bantams I think you have the best overall quality I have ever seen. Well done".
G.F from SA - "To be able to access quality birds from such genuine people was a pleasure".
L.W. - When I picked up your trio yesterday it was instant gratification - "This is the type I have been searching for!". There are sooooooo many Sussex out there but they lack the type your birds excel at. I am over the moon with your birds that are such a fine example of the breed. They are stunning........
S.M. - "the large light sussex pullets have arrived, they are beautiful birds. We are amazed at how big they are."
B.B from SA - "We went to **** show today, and had a very good result with our Sussex bantams in very large classes, over ten in both the male and female classes. The Light Sussex male that you sent down to us picked up a first and best of breed in a class that included the Champion Sussex Bantam Male from this years Royal Show. The other male that we hatch here from your eggs picked up a third overall it was a very good result for both birds considering the quality of the birds there today and it was the largest class I have seen in a while outside the Royal Show. I am very pleased the way the Light Sussex Cock you sent down has filled out and now looks the business. I think it shocked a couple of people that we beat the Royal Champion"
P.O. - "How exciting to have incubated my first batch - 8 chicks hatched from the 12 eggs we bought, many thanks for all your detailed emails and assistance over the last month or so."
C.S - "The eggs arrived in 110% packing, all great thanks."
L.W. - "Just picked eggs up from the post office, wow....... your eggs are so clean and well packed an obvious testament to your birds and husbandry skills!"
E.N. from VIC - "A pleasure to do business with you and I am very happy with my chicks".
A.T. from QLD - "The eggs arrived yesterday - absolutely brilliant packaging. The best I have ever been sent".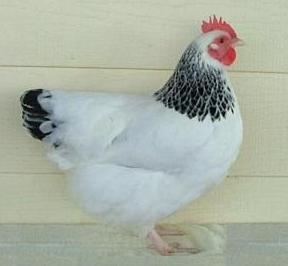 The photo above shows our multi-interbreed show champion Light Sussex Bantam hen LS007, described by judges as "the best ever seen".
Click on the links below to see photos of our breeding stock, and full list of show wins:
Hall of Fame Show Champions of 2014 - click here for photos
Hall of Fame Show Champions of 2013 - click here for photos
Major Interbreed show wins for our fowls include:
Wauchope Pountry Club Rare Breeds & Colours Show 2014